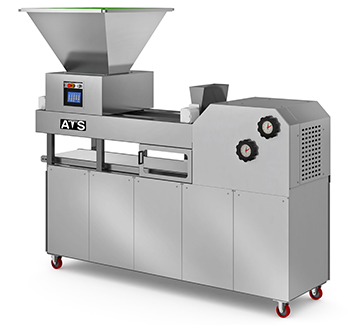 Soft Dough Processing Machine
New ATS soft dough processing machine is capable to shape dough pieces which contains high level of water with different length and weight range.
Capacity of the line is 12.000 pieces per hour and dough processing range is between 30-1000 gr. Maximum water ratio in the dough should be up to 70%*.
Specification:
· Dough pieces can be divided in different forms such as short, long, angled and like ciabatta.
· Capacity is 12.000 piece per hour
· Dough processing range is between 30-1000 gr
· Automated flour dusting system that positioned different locations on the machine
· Panning machine can be adapted to the system (optional)
· Easy to install and start-up
· Can be operated by single user
· Easy to clean
· The line can be expended in the future for more capacity and producing different productions
· By the easy controlled dividing system, the investment recovery will be faster by producing different productions with the single machine.
Option:
· Dividing knifes
· Automated dough loading platform
· Additive sprinkling system
· Panning machine